The many works of public art in the Greater Rincon Hill Community Benefit District (GRHCBD) are varied in material, subject matter, and style, but they have one important thing in common: they are almost all made by men. This short walking tour is a small attempt to address that imbalance. At the bottom you will also find a map of public art by women in the greater downtown SF area.

Tap the map images for Street View.
---
SITE 1
Cupid's Span
Claes Oldenburg and Coosje van Bruggen
2002
Folsom and Embarcadero
Though often attributed solely to Oldenburg, Cupid's Span is also the work of Coosje van Bruggen, Oldenburg's wife and partner who collaborated with him on several public sculptures in other cities.
Van Bruggen was a Dutch-American sculptor, art historian and critic who worked in the 1960s among environmental artists and the Dutch avant-garde. From the late 1970s onward, she and Oldenburg produced several monumental sculptures that the couple referred to as Large-Scale Projects: Flashlight (Las Vegas), Spoonbridge and Cherry (Minneapolis), and Tumbling Tacks (Oslo).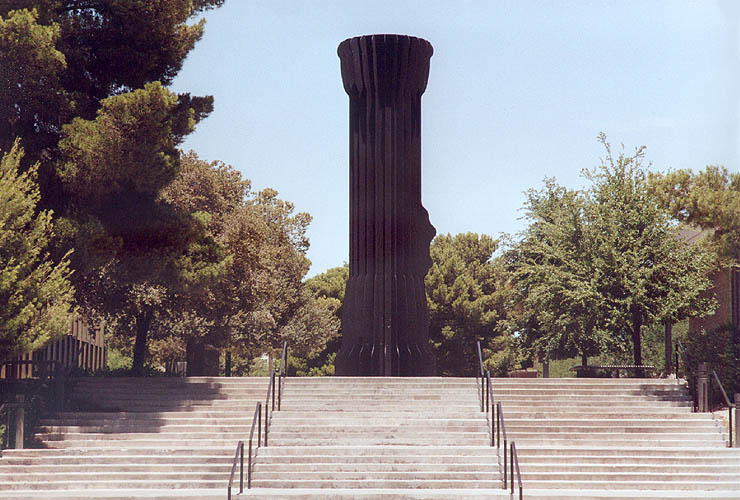 According to a 2002 interview with the San Francisco Chronicle, Cupid's Span combined Oldenburg's desire to reference the Bay Bridge and passing ships with van Bruggen's fixation on musical instruments. Around that time, the couple happened to be studying a painting of Cupid with an archer's bow. "It's that jump of associations combined with the site that creates the image," van Bruggen said.
---
SITE 2
Obelisk
Joan Brown
1989
Rincon Plaza (middle of Rincon Center, 121 Spear St)
This obelisk by Joan Brown falls outside the boundaries of the GRHCBD, but is very close by. Brown was primarily a painter, associated with the second generation of the Bay Area Figurative Movement. She studied at what is now SFAI and taught at Berkeley.
Joan Brown's Self Portrait at Age 42, 1980
In addition to painting, she also completed a series of these obelisks, two more of which are in San Francisco: one on a rooftop plaza at 343 Sansome and another at Walton Square (Jackson and Front St). They are from a time in Brown's life when she began feeling ambivalent about the selling of art. Around this time, Brown attempted to withdraw her work from the market and concentrated instead on public projects.
A 2014 SFAQ profile of Brown notes that she was a restless soul, marrying four times and traveling endlessly toward the end of her life. She defined success thus: "...Finding those surprises, and the excitement and challenge of pushing the work just a little further each time to try to dig out the surprise which I haven't dug out before. And that is to just keep growing and changing and keep letting go, letting go, letting go of any kind of boundaries or rules or regulations that I or anyone else sets up. What I mainly want to be is surprised: the joyousness of that surprise. Going past what you know."
---
SITE 4
Foundry Square
2003 (first building)
First and Howard
Foundry Square is a series of commercial office buildings completed between 2003 and 2014. From the intersection of Howard and 1st, one can see three examples of the metal, abstract sculptures commissioned for the openings of the various buildings, by Richard Deutsch (above), Richard Deacon, and Joel Shapiro. Like many public art projects in San Francisco, these sculptures were funded by the city's "Percent for Art" legislation, originally part of the 1985 Downtown Plan, which requires all buildings downtown that are over 25,000 square feet to use at least 1% of the construction budget for art.
While not represented at Foundry Square, there is a legacy of female artists in large-scale abstract and minimalist sculpture as well. Here are a few examples whose work is in the collection of the nearby SFMOMA.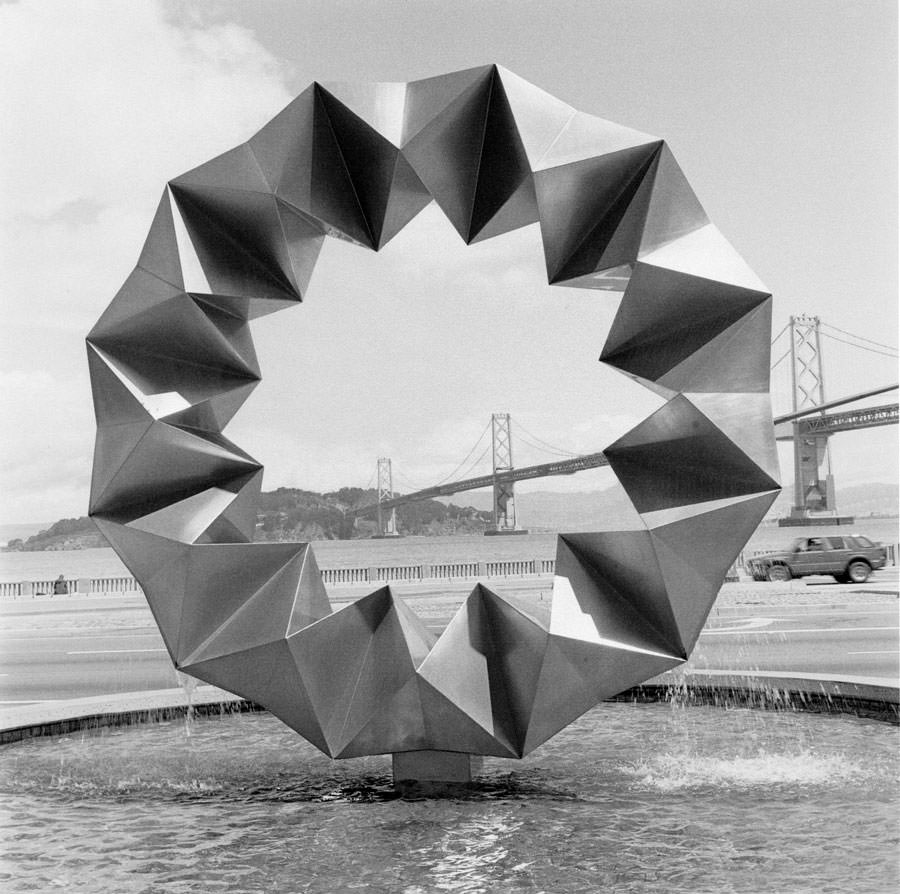 Ruth Asawa
Asawa was California-born sculptor known for wire sculptures that made use of geometric and natural forms. Her interdisciplinary approach was partially related to her time studying at Black Mountain College with Josef Albers.
Starting in the late 1960s, Asawa began designing public fountains in San Francisco, including one in Ghirardelli Square in which she had 200 children mold images of San Francisco into dough and then cast them in iron. She also advocated strongly for arts education for children, and was instrumental in establishing a public arts high school in San Francisco.
---

Barbara Hepworth
Hepworth was an English artist whose work is exemplary of modernist 20th century sculpture. At the age of 18, she won a scholarship to the Royal College of Art in 1921. She visited the studios of Jean Arp, Picasso, and Brancusi, and co-founded an art movement called Unit One, an attempt to merge Surrealism and British abstraction.
Hepworth's sculptures utilized wood and stone up until the 1950s, when her practice expanded to large-scale bronze works. She was fond of viewing these bronze pieces in a garden that she herself had designed -- this later became a sculpture garden when her home was memorialized as a museum.
---
Beverly Pepper
Pepper's best-known work includes monumental steel and bronze works that, especially at the time that she was making them, would normally have been associated with men. Although she started out as a painter, it was the sight of the ruins at Angkor Wat in Cambodia in 1960 that pushed her toward sculpture.
Influenced by the traditional act of carving, her large-scale sculptures were intended from the beginning for the outdoors. While working at a steel plant in Pennsylavnia, Pepper was introduced to Cor-Ten steel, which she incorporated into land-art-inspired sculptures like Dallas Canal: Hillside.
---
SITE 5
Windows
1973
529 Howard (and other locations)
Windows was a series of 54 sites designated on a map by the documentary filmmaker Eleanor Coppola, who invited the public to consider the buildings' windows as "art that exists in its own context, where it is found, without being altered or removed to a gallery situation." The sites were all over San Francisco, but many were clustered downtown (perhaps because they had the busiest windows).
The address that falls within the GRHCBD was at 529 Howard St, which was formerly the Martin Building. It has since been demolished and the site is now a parking lot. One must imagine both the building and the window.

my favorite kind of art
This project is interesting to consider in the context of Coppola's career, given that documentary filmmaking inherently embodies an observational stance.
Coppola won an Emmy in 1991 for her documentary (Hearts of Darkness: A Filmmaker's Apocalypse) about her husband Francis Ford Coppola's Apocalypse Now, in which she captured the psychological difficulties Coppola and the actors experienced on set (including Martin Sheen's nervous breakdown).
---
ADDENDUM
Below is a map of the aforementioned works, plus others in the wider downtown area. Many of the works were temporary or have been removed.
---
This tour was compiled by Jenny Odell. A very special thanks to the curators Christian Frock and Tanya Zimbardo for help with research on this project.